OVERVIEW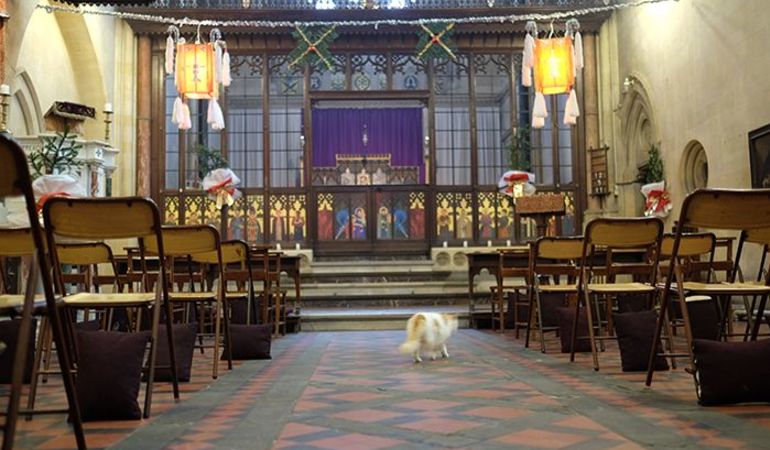 "The Spiritual tour took me into the hidden spiritual spaces off Istanbul's main drag, Istiklal. The tour was like having a good friend with a deep knowledge of the area showing you the sites. Deeply informative, but just casual enough that it was also thoroughly enjoyable. I look forward to discovering more about the many layers of Istanbul and highly recommend the Istanbul Tour Studio." Read more on Tripadvisor.
Spiritual Sunday Walk
This tour offers a chance to follow the footsteps and religious rituals of different communities inhabiting the old Istanbul district of Pera (Beyoglu in Turkish). Pera's settlement history dates back to the 5th century AD. Today, it is one of the very few places in Istanbul where the sound of Ezan (Muslim call to prayer) and the bells of Catholic Churches get mixed up in the air. The original name of the area "Peran en Sykais" is a Greek word that means "the fig field on the other side." Pera being the little city across the old imperial Istanbul has always been home for minorities and expats.
Today Pera neighborhood still represents the rich mosaic culture of Istanbul. On this walk, called "Spiritual Sunday Walk," we are focusing on the past residents and owners of Istanbul from the perspective of religion and beliefs. Starting from an Armenian Gregorian Church we visit one place per each house of worship.
---
Highlights
Learn about the multicultural make-up of Pera, while strolling around the city at a peaceful morning:
Pera was historically home to Catholic Venetian and Genoese immigrants referred to as "Levant" meaning "Eastern" in French. The Levant culture left its mark in the architectural façade of this area. Many of the monuments and landmarks carry the traces of this culture.

From Spain to Constantinople: Sephardic Jews were another community that played an important role in the development of Pera's culture and business.

Ottoman Turks of Istanbul: Needless to say, Turks have also been permanent residents of the city since 1453 and they added to the richness of the area through their Muslim traditions and culinary culture.
Discover the following sacred venues, while listening to the stories of their respective communities:
An Armenian Gregorian Church




A Roman Catholic Church




A Greek Orthodox Church




A Sufi Order at

Galata Mevlevihanesi

(with an option to watch a Whirling Dervishes ceremony depending on the day)

A former Jewish synagogue




One of the oldest mosques in Istanbul

A Russian Orthodox roof-top church



Delve deep into history with a narration on:
Fourth Crusaders and Latin Kingdom of Constantinople




Foundation of Sunni-Sufi Muslim Community by Rumi (Mevlana Celaleddin Rumi)




Whirling Dervishes and Sufi Music




The Ottoman era in Constantinople, its early mosques and Islamic culture




The Levant Culture (European immigrants' daily and religious lives in Constantinople)




Sephardic Jewish community and their journey to the Ottoman lands in 1492
Important note:
The Sunday walk will end at Karaköy around 2:00 pm. For those who are interested in watching the Sema (Whirling Dervishes) there is an option of staying to watch the weekly Sufi ceremony at Galata Mevlevihanesi, every Sunday starting at 5:00 pm.
---
Who is this tour for?
Anyone interested in finding out about the multicultural make-up of Istanbul.

People who have an interest in history, culture, religion or architecture

Anyone who thinks that spending a day walking around the charming backstreets of Istanbul and learning about the city sounds like the ideal Sunday.
Why book with Istanbul Tour Studio?
Istanbul Tour Studio is rated "Excellent" on Tripadvisor. Click to read the latest reviews about us.

We make you feel at home! Our tours give you the feeling that you are walking around Istanbul with local friends.

We have a team of knowledgeable personnel that are trustworthy, friendly and always on time.

We'll take you to the places where no other tours usually go.
---
How much is the private Spiritual Sunday tour per person?
Our private Spiritual Sunday tour price is $120 USD/person for a two-people group. ($240 USD/total for two adults)
Our prices are quoted per person. We require minimum two participants to organize this private tour. Please contact us if you'd like to book a private tour for one person. The prices include English-speaking professional guidance and venue entrance fees. We offer dynamic pricing which means as the number of people on your private group increase, our per person prices decrease.
This tour costs $120 USD/person for two people; $95 USD/person for three people; $80 USD/person for four people; $70 USD/person for five people and $65 USD/person for six people. You will automatically get the dynamic pricing at the booking phase once you select the total number of people.
Please contact us for custom pricing for groups over six people.
---
THEME
The Spiritual
Hidden Spiritual Places, Multicultural Religious Rituals, A Peaceful Morning Walk, Only on Sundays